I woke up yesterday morning with a song running through my mind. But not an entire song. Oh, no. Just a few simple melodies and a random word here and there. Sort of like "Something something ENOUGH, never something SOMETHING, Uh-HUH."
I drove my co-workers crazy with it, partly because I am tone deaf and should never ever sing, but mainly because my co-workers are all much too young to remember the classics from the 80's. But at last, I finally remembered enough of the song to Google the lyrics, and voila! I had the title, artist, and video.
"Room at the Top" by Adam Ant.
Oh, Adam Ant. Sigh. I had such a crush on him. My first concert was him and the Romantics, although that was early enough in his career that he was still Adam and the Ants at that point. Long before his big hits like "Strip" or "Goody Two Shoes" or, of course, "Room at The Top."
When I went to his concert, his hits were all songs like "AntMusic" and "Dog Eat Dog." I mean, who else wrote lyrics like "Leapfrog the dog and brush me, daddy oh"?  But it was more than his music. He oozed sexuality. My little teenage hormones went into hyperdrive when I saw him dance and wriggle all over the place.
So I was all set for a steamy trip down Memory Lane yesterday when I clicked on one of his videos to remind myself of just how sexy he really was.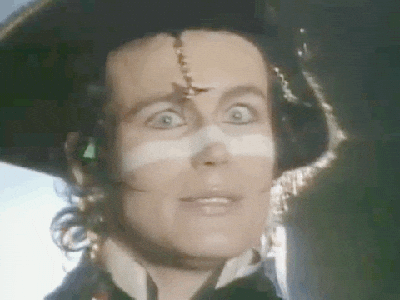 Um . . . well, that was . . . not quite what I remembered.  Perhaps I had him confused with some other sexy artist of the 80's. Maybe Billy Idol?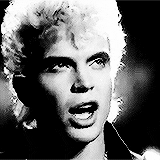 Maybe Brian Setzer?
Not a whole lot of testosterone going on there, guys.
I started frantically searching through 80's videos to see if any of the men I thought of as sexy were as breathtaking as I remembered. So far, this is the most masculine and powerful image I found:
Gotta be honest here, folks. If I were a lesbian, Annie Lennox would SO be on my radar.
But since I am straight and single, I am now totally confused about just exactly what I ever saw in those pretty boys of the 1980's?  More to the point, I really need to look at pictures of men that I find attractive now.
Mmm-hmmm.
Yes, please.
Goodness.
I'm having trouble breathing, Mr. Gage.
Fireman. Need I say more?
(Okay, so that last one's not a celebrity. We may be divorced, but I still think he's kinda cute.)
Okay, all better now. I'm coming to terms with the realization that my tastes in men have definitely evolved a bit over the years, thank goodness.  And while I know I'm never going to go out with Sam Elliot, Taye Diggs, Eric Allan Kramer, or Randolph Mantooth (or my ex!), I can always dream, can't I?
At least now, I'm not dreaming of men who wear more eyeliner than I do!
What about you? Have your tastes changed over the years? Who do you find most attractive now?